Shari's Guide to the Hamptons
In the near end of Long Island, lies The Hamptons - a magnetic summer destination that has earned its place as a sanctuary for tastemakers, artists, designers, and the crème de la crème of Manhattan society. A mere two-hour drive from the bustling streets of New York City, this idyllic retreat beckons with an irresistible array of pleasures, from its picturesque shopping towns and farm-to-table dining to the allure of artisanal coffee shops and mesmerizing sunsets.
Step into an exclusive enclave where the air tingles with excitement, and relaxation intertwines effortlessly with sophistication. Here, you'll encounter the creators and innovators who shape the cultural landscape, and you'll forge unforgettable connections with kindred spirits. Whether you seek a brief respite for the weekend or a more extended vacation, this coastal paradise promises an unparalleled experience that will leave an indelible mark on your soul.
To help you unlock the very essence of The Hamptons, Our Founder Shari curated the finest places to stay, eat, shop, play, and dream. Whether you're a seasoned traveler or embarking on your first trip, this guide is tailor-made to enrich your journey and unveil the hidden gems that make The Hamptons truly exceptional.
Scroll down to read her guide now and remember to bookmark or share if you plan to visit.
Where to STAY
Nestled away like a treasured secret, Journey East is a hidden gem that offers a perfect blend of thoughtful design, ultimate relaxation, and the convenience of being in close proximity to East Hampton's main shopping center and pristine beaches. This boutique hotel has gained renown for its inviting guest rooms and charming cottages, exuding an atmosphere of tranquility that envelopes guests from the moment they arrive.
Set against a backdrop of lush greenery, Journey East invites you to unwind and savor moments of serenity by their saltwater swimming pool or enjoy leisurely strolls through the serene lawn. One of the delightful perks of staying here is the complimentary bike service, allowing you to pedal your way to the nearby beach for an enchanting day by the ocean.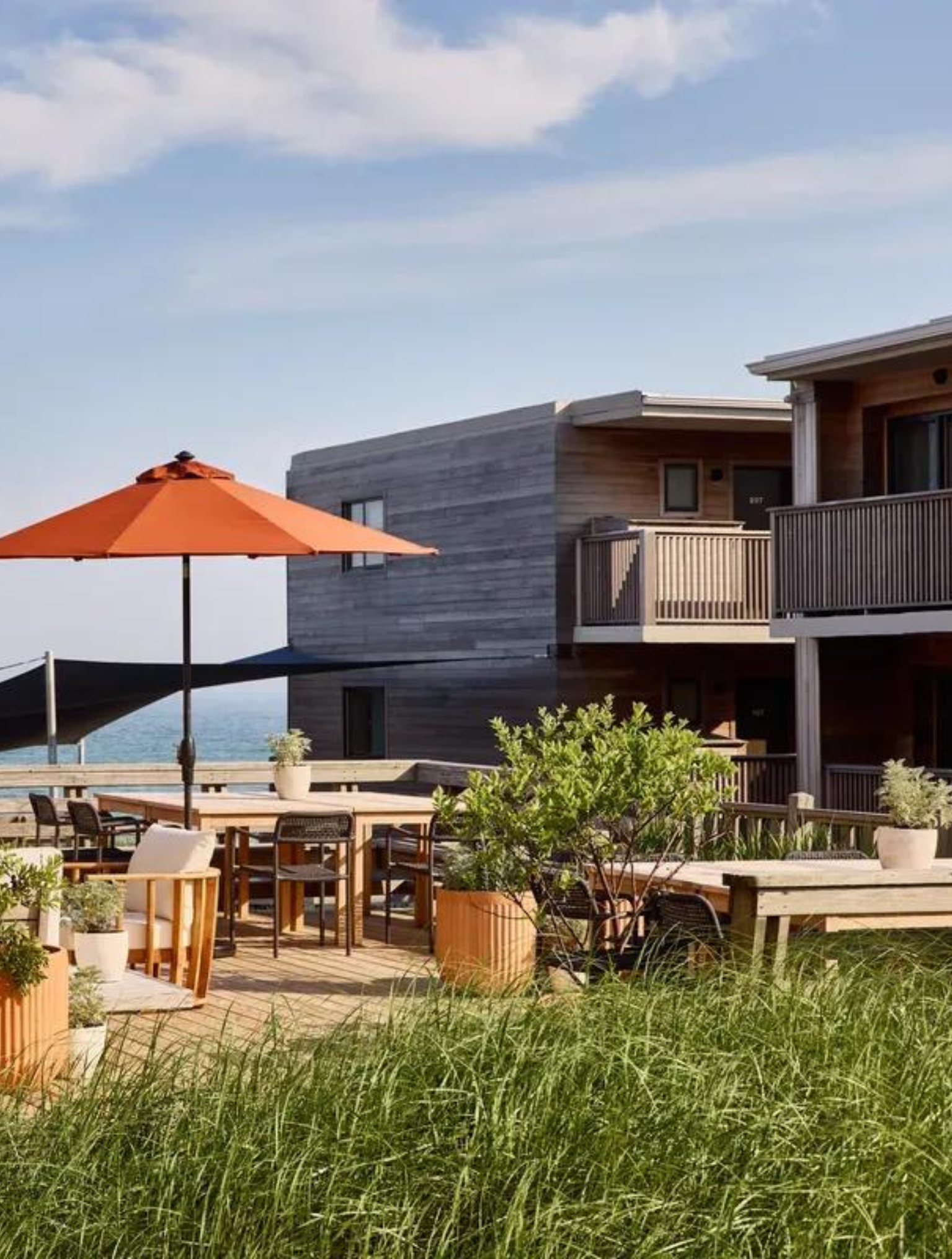 Marram Montauk
For those seeking a stay that caters to the art of relaxation and cherishes the little moments, "Thoughtful Details" stands as an oasis of peace and simplicity. Every aspect of this enchanting accommodation is designed to elevate your experience, allowing you to indulge in sleep-ins, savor luxurious mornings, steal moments for yourself, and find solace in the late afternoon breaks.Delight in the absence of distractions, as Thoughtful Details keeps its rooms screen-free, intentionally eschewing televisions to encourage guests to unplug and truly reconnect with the beauty of the present moment. Here, you're invited to leave the digital world behind and embrace the tranquil escape The Hamptons offers.Thoughtful Details thoughtfully equips its rooms with just what you need for your stay, ensuring comfort and convenience blend seamlessly with a touch of rustic charm. From the coziest linens that cocoon you in warmth to the carefully curated amenities that cater to your every desire, every detail is crafted to enhance your stay in The Hamptons.
Shou Sugi Ban House
While The Hamptons offer a welcomed respite from the city's hustle and bustle, there are times when even a vacation calls for a retreat within a retreat. Enter Shou Sugi Ban House, a sanctuary where the emphasis lies not on socializing, but on self-reset and pure relaxation.Unfolding before you is a world of serenity, where time slows down, and the demands of daily life melt away. At Shou Sugi Ban House, immerse yourself in the essence of tranquility as you stroll along serene beaches, breathe in the salty air, and let the waves wash away your worries.Prepare to nourish both body and soul with a myriad of wellness treatments tailored to meet your every need. From soul-soothing sound baths that embrace your senses to indulging in nourishing plant-based cuisine, every aspect of your stay is designed to promote holistic well-being. Shou Sugi Ban House is not just a place to stay; it's an invitation to rediscover yourself, to awaken the spirit, and to savor every moment of this precious sanctuary of self-renewal.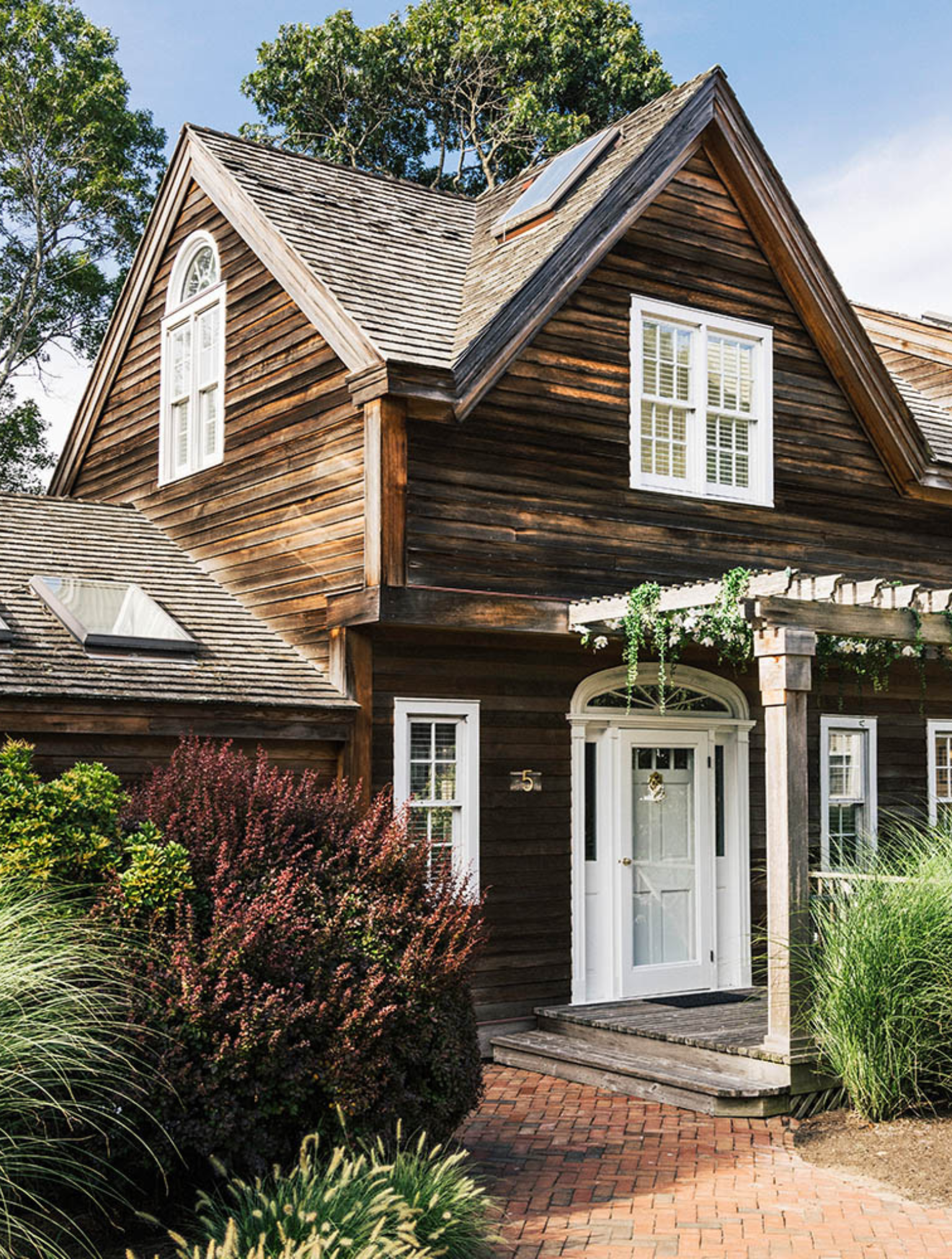 EHP Resort & Marina
If privacy and exclusivity are what you seek, EHP, also known as East Hampton Point, stands as one of the most coveted retreats in the area. With its inviting cottages and suites, each adorned with balconies, decks, and even backyards, this hidden oasis offers an unparalleled sense of seclusion, ensuring you bask in tranquility throughout your stay.A haven for the discerning traveler, EHP boasts an extensive array of amenities that cater to every whim. Test your skills on the tennis courts, keep your fitness regimen intact at the well-appointed gym, and immerse yourself in wellness programming that nurtures your mind, body, and soul. Water enthusiasts will find their paradise here, as the property offers an array of delightful water activities to savor.Upon checking in, be embraced by a sense of indulgence as you slip into a sumptuous Frette robe, power up the soothing Vitruvi diffuser, and surrender to the captivating view of the sun setting into the harbor.EHP offers a harmonious blend of elegance, seclusion, and abundance, ensuring that your stay in The Hamptons becomes a cherished memory to treasure.
Where to DINE
While many flock to the Hamptons for farm-to-table delicacies, there's a hidden gem that steals the spotlight: the glorious Lobster! If you're a true lobster lover like me, forget the buzz about other eateries, and head straight to Amagansett seafood haven - The Lobster Roll, affectionately known as "the lunch.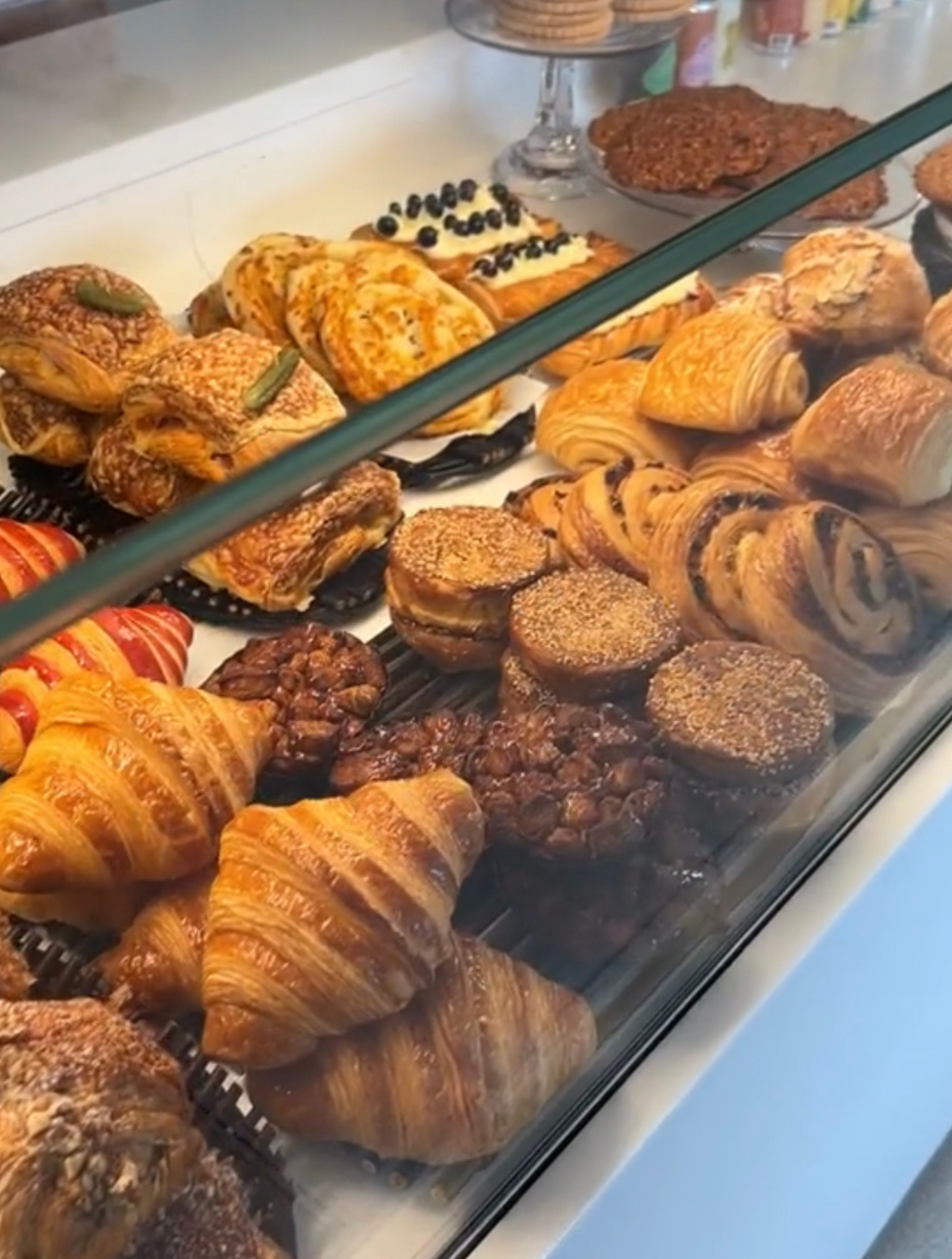 Carissa's: For the Breakfast Enthusiasts.
For breakfast enthusiasts, Carissa's Bakery is an absolute must-visit. Awesome selection of pastries, coffee and creative breakfast/lunch items.The design is very clean, calming and inviting
Sant Ambroeus: Perfect for Brunch or Dinner
Breakfast at Sant Ambroeus on Saturday mornings is, for many Upper East Siders and West Villagers, a standing order. When those same crowds descend on the Hamptons for the summer, not much changes. Just as elegant as its sister properties. The Italian-leaning menu is a list of dishes impossible not to order: caesar salad, spaghetti with clams, and this season special pasta with crab meat.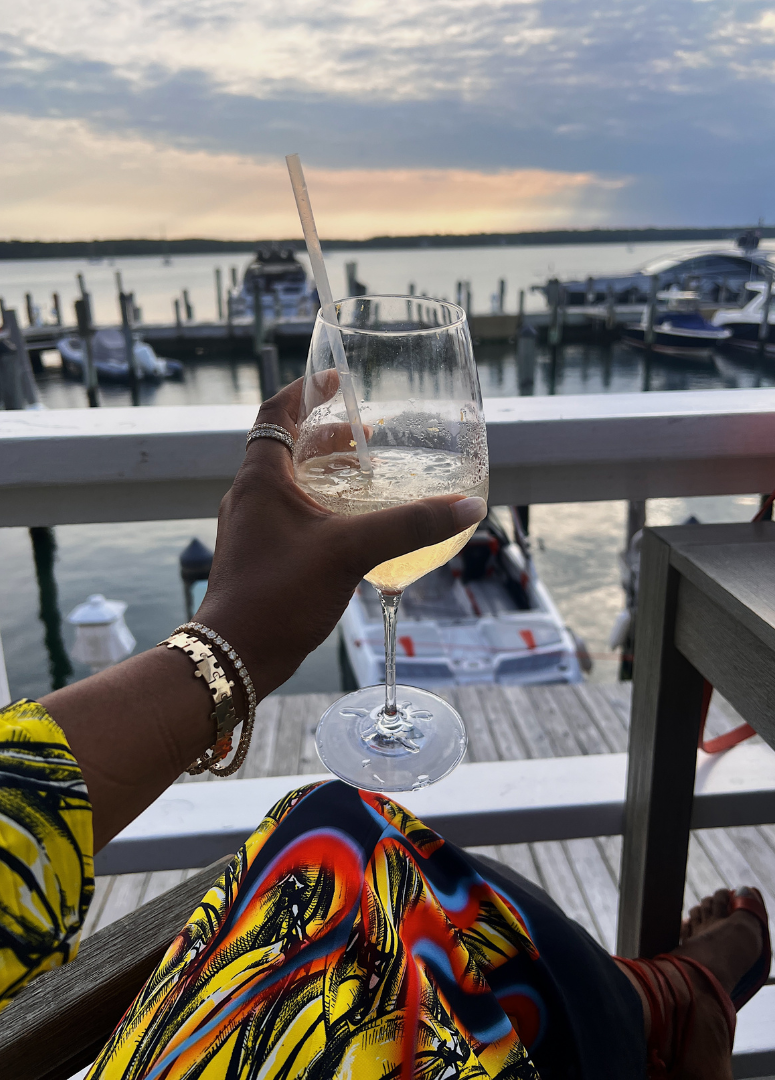 Sí Sí: A Sunset Retreat
When it comes to experiencing the mesmerizing sunset in The Hamptons, Si Si is the perfect choice. Skip the overpriced Mediterranean food and head straight to bar for a cocktail and sunset. Si Si's outdoor ambiance sets the scene for a relaxing evening as you savor your drink and bask in the breathtaking view of the sunset
Where to SHOP
Retail Therapy' may well be worth a million dollars, but in certain locations just to walk down the avenue is the value of a lifetime. Bordered by sleek sandy beaches, preserved green land, and Shingle Style mansions, the shopping streets of East Hampton Village might be called the 'Out East' version of Madison and Fifth Avenues in NYC.
The CHANEL Ephemeral Boutique in East Hampton is now reopened for the summer. The 2,500- square-foot two-story shop has been reimagined for the season as a "perfectly Parisian summer fantasy" according to a press release. Offering a luxe selection of handbags, small leather goods, accessories, watches and fine jewelry, fragrance and beauty, as well as the Coco Beach and Métiers d'art 2023-24 collections by Virginie Viard, this little haven will certainly provide some much needed retail therapy.
 Sage & Madison.
 Maison Margiela has partnered with celebrity stylist Cameron Silver for his second annual East Coast Summer fashion residency at Sage & Madison. As part of the partnership, Margiela is taking over the hotel's dining room space for a pop-up experience which will include women's ready-to-wear, accessories, and shoes highlighting the label's new colorama handbags and the iconic 5AC styles from the CoEd23 Exit 1 Collection.
Tina Store
Tina Store has an amazingly edited selection of fashion, beauty, and home items, all curated by the informed and refined eye of Tiina Laakkonen, who knows the ins and outs of the industry, having worked as a model and design assistant to Karl Lagerfeld at Chanel, and as a stylist for many years. Located in an 18th-century house in Amagansett, the store's minimal interior is a sleekly modern nod to Laakkonen's Finnish heritage.
Louis Vuitton
Louis Vuitton launched its first-ever boutique out east, located in a prime position on Main Street that feature the complete Louis Vuitton universe with a luxurious array of men's and women's ready-to-wear, shoes, leather goods, accessories, and fragrances as well as the Maison's most extraordinary métiers such as exotic leather goods, exquisite high jewelry and watches, iconic hard-sided trunks and sophisticated Objets Nomades.
The Hamptons is truly one of the few unspoiled places to unwind in nature, immerse yourself in art and history, and treat yourself to an upscale dinner or too, without having to compromise on quality. While this coastal playground will always draw in the masses, finding solitude and solace on this seaside paradise "Out East" proves time and time again to still be one of the best ways to enjoy a New England summer.